July 28, 2017 by David Ditzler
When Barnabas Helmy, founder and CEO of SmashToast, Inc., was looking for a packaging supplier in the Chicago area, he had a very tight deadline. SmashToast makes PUCK, a Bluetooth low-energy device about the shape of a mini hockey puck that is only 1.5" wide. The PUCK is designed to stick on the outside of any device that uses an infrared (IR) remote. Using your smart phone and the free PUCK app which is available for both iOS and Android devices, you can choose the device you want to control from the app. Next just sync the PUCK via Bluetooth and you have a remote for your device using your phone. Since the connection to the PUCK is Bluetooth it has great range in the home or office and does not have to be line-of-sight like a typical TV remote where you have to point it directly at the TV for it to work.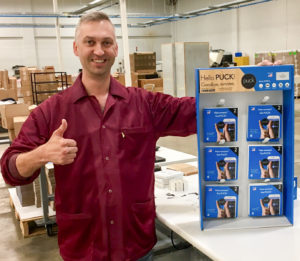 SmashToast had a great opportunity to get their USA made product, which is manufactured right here in Illinois, in several Walmart stores across the country as a test. In order to be in stores though, they need to have retail display packaging. The hanging endcap unit that Walmart specified was called Sidekick. Luckily Barnabas and I are both members of Chicago MakerBiz which is a group of people that meet face-to-face once a month and stay connected online through Google Groups. MakerBiz is a product-focused, support community by, for and consisting of entrepreneurs. When Barnabas posted a message to the group another member recommended he contact David Ditzler from Sunrise Hitek. We exchanged messages online and the project was started.
With an in-store deadline of less than two weeks, we had to work fast. Barnabas supplied us with the specs of the Walmart Sidekick display and a quick sketch of what they wanted. We turned that sketch into a plain cardboard prototype for evaluation and then a full-color printed display that was sent to Barnabas for approval. The entire first run of 150 units was printed and cut at Sunrise Hitek and then sent ready to assemble to SmashToast's manufacturing partner in Central, Illinois.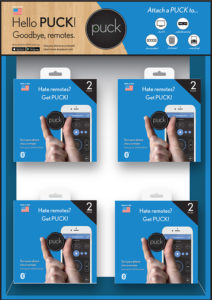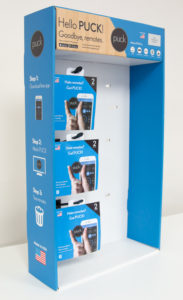 The PUCK is now available in 70 Walmart locations in IL, FL and TX. We are currently working with SmashToast on their second Walmart display, this time for use on a shelf.
"David and Sunrise came in like superheroes when we had a last-minute display request for a major retailer.  David is a fantastic industrial designer and can accommodate virtually any request.  Not only were the prices incredible, their product was outstanding and the turnaround time was FAST! I look forward to any opportunity to work together in the future."- Barnabas Helmy
This is a great story of how small businesses can connect to help each other out. The entrepreneurial spirit has always been strong in the Midwest and Sunrise Hitek is proud to be a part of that.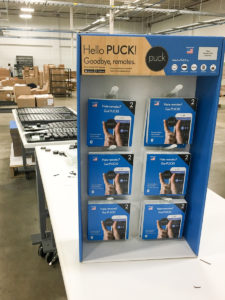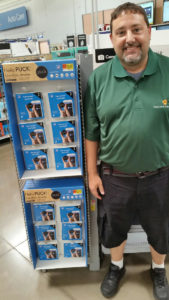 PUCK is a small, wireless device that allows you to control things in your home with your phone. Simply place PUCK near the IR sensor on your device, download the free app, and toss your remotes! You can purchase PUCK in select Walmart stores or online at www.getpuck.com
About Sunrise Hitek Group, LLC.
Sunrise Hitek was established in 1988 and employs the most advanced equipment and technology, such as G7-certified HP Indigo and UV flatbed presses, laser engraving, and digital die-cutting, to create best-in-class color printing, short-run packaging, P.O.P. retail displays, and signage products. A privately-owned enterprise, the company is based in Chicago and sells products worldwide.